Title:
The Path to Heaven (Through Miles of Hell)
Fandom:
Death Race
Rating:
PG-13
Pairing:
Joe/Jensen
Summary:
A fanmix following the events of

subluxate
's excellent fic
We Can't Buy Freedom
(
AO3 mirror
).
Disclaimer:
All copyrighted material referred to in this work, and the characters, settings, and events thereof, are the properties of their respective owners. This work is not created for profit and constitutes fair use.
A/N:
For small fandoms big bang! This mix was a lot of fun; the fic is great. Be sure to check it out!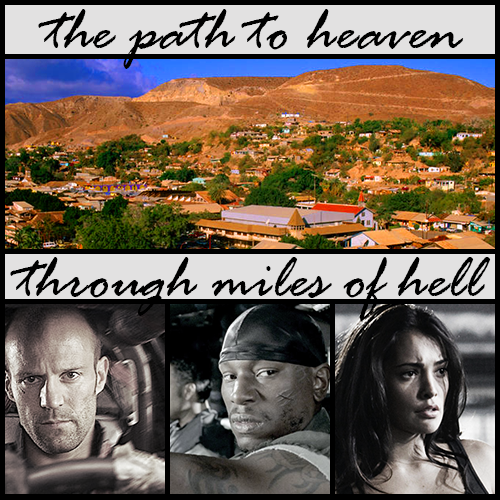 I'm breaking in, shaping up, then checking out on the prison bus
This is it, the apocalypse
Whoa

I'm waking up, I feel it in my bones
Enough to make my systems blow
Welcome to the new age, to the new age
("Radioactive" | Imagine Dragons)

*

All we are is broken glass
Thrown to the floor, we were never meant to last
And all we are, are empty shells
Try to pick us up, you're gonna cut yourself

We march the streets at night
Looking for a thrill, looking for a fight
It was the first day of the rest of our lives
We were fast, never gonna die
Ridin' up the highway 45
We didn't know we couldn't go on forever
("Broken Glass" | Three Days Grace)

*

I ran from the tide
Won't let you hide
Won't let you hide

I break bones, stealin' mobile phones
And I'm cuttin' deals for these homeless meals
Makin' idle threats using Chinese burns
As you load my head with the grateful dead singin'
("Processed Beats" | Kasabian)

*

Hello world
How've you been?
Good to see you, my old friend
Sometimes I feel cold as steel
Broken like I'm never gonna heal
I see a light, a little hope
In a little girl
Hello world
("Hello World" | Lady Antebellum)

*

Cause life is sweet in a border town
You learn to let your hair down
And you don't make trouble
You learn to dance the Fandango
You change your name, maybe change your face
Get used to beans and chili paste
And you learn to live and love
Life in the slow lane
("That's Why God Made Mexico" | Tim McGraw)

*

Yeah, I'm startin' to see
Yeah, I do believe
Better keep your distance
From this tangled shape i'm in
Now no one had better touch me right now
In this cold-blooded thick skin
Better, well, well
Now I said you better run real fast
When you hear that rattlin' sound
Oh I said you better run real fast
Or this one's gonna knock you down
("Rattlesnake Smile" | Christian Kane)

*

We met up once we'd settled the sun
Between the heat and the work week
The fear is we could use some sleep
But sleep to the superfluous man means better use for beds
And I'll bet I'm coming home alone tonight.

I don't need to be reminded that this is how it was.
I moved on, I passed a billboard down my block
That asks if I've had enough, and aloud I say "I've had too much,"
When the truth is, I'm just getting started.

Now all the barlights are blinking in time
To Mexican music, it's taunting the pavement
And I feel alive.
("Barlights" | Fun.)

*

I've lived a lot of different lives
Been different people many times
I live my life in bitterness
And fill my heart with emptiness

And now I see, I see it for the first time,
There is no crime in being kind
Not everyone is out to screw you over.
Maybe, oh just maybe they just wanna get to know ya.

Now the time is here,
Baby you don't have to live your life in fear
And the sky is clear, is clear of fear
("Fear and Loathing" | Marina and the Diamonds)

*

But I ascend and serve my feverish need
Within the confines of such chemistry

Let this be our little secret
No one needs to know we're feeling
Higher and higher and higher
Higher and higher and higher
("Little Secrets" | Passion Pit)

*

Everybody says it can't be done
We drive each other crazy
But you're still the one
You make it hard to stay, harder to run

It's a knock-down, drag-out fight
Tongue-tied and twisted we can go all night
You're comin' with me and here's the deal
Baby, slide on over, I'm takin' the wheel
Yeah
("I'm Taking The Wheel" | SHeDAISY)

*

It's time to begin, isn't it?
I get a little bit bigger, but then I'll admit
I'm just the same as I was
Now don't you understand
That I'm never changing who I am

So this is where you fell
And I am left to sell
The path to heaven runs through miles of clouded hell
("It's Time" | Imagine Dragons)

*

Papa's got a boyfriend, yeah, Dad is a man's man
Everybody's family, loving everybody he can
Oh the old world is turning around like a top
and there's nothing you and I should even try to do to stop it
It takes a lot of courage to stand up and get what you need
And lots of us are happy in a different kind of family
("Family" | Christopher Bingham)

DOWNLOAD.